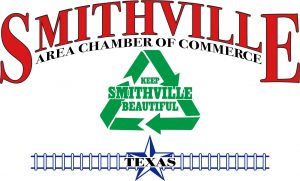 Keep Smithville Beautiful (KSB) is a 501c3 non-profit dedicated to the beautification and environmental sustainability of Smithville with Silver Star status from the Keep Texas Beautiful program.
KSB was founded in 1985 by the City of Smithville and the Smithville Garden Club. Today it is managed by the Smithville Area Chamber of Commerce and a board made up of local volunteers who collaborate with the many dedicated local organizations and individuals helping to keep Smithville beautiful.
KSB Goals:
Reduce litter and waste

Improve awareness of local sustainability resources

Increase the beauty of Smithville

Protect native flora and fauna

Support sustainable energy and water use
Some examples of projects that KSB supports: household hazardous waste drop-off events, Greater Smithville Super Sweep litter clean-ups, and the Sustainable Home and Garden Show community event.
Please follow us on Facebook or email keepsmithvillebeautiful@gmail.com for information about KSB events, to get involved, and learn about ways to keep Smithville beautiful!