DOGGY BARK PARK
Where Leash Laws Do NOT Apply!
Bark-LittleDog_3981-webWhile the city of Smithville has a leash law even in their public parks, our new Doggie Bark Park officially opened on May 1st with a ceremony and some waggin' tail fun.   This is a place where man's best friend can roam at will and socialize with other dogs their size from sunup to sundown.
Please follow all rules for the safety of the dogs and owners. For information, call 512-237-3282, ext. 7 (Rec Center, Parks & Recreation Dept.)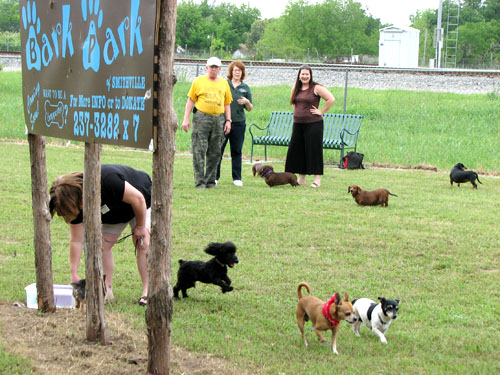 Off Hwy 95 at First Street, just across from the Smithville Indoor Recreation Center. (The entrance is actually across from the Skate Park behind the Rec Center).  The long park area is located just north of the railroad tracks.
A fenced entry area that opens through gates to the Larger Dog area and the Small Dog area (30 lbs and smaller only).
A dog pooper scooper station will be available to help dog owner's keep the areas clean. Owners must pick up after their dogs.
Comfortable benches for seating.
Water will be available for pets and owners.
Restrooms are on the east side of the Bark Park area inside of the Railroad Park.
Supporters of the Bark Park
PREMIUM SPONSOR (Matching Challenge - Over $5,000) - Best Friends Boarding, Best Friends Boarding Too
For details on becoming a "Supporter", call the Rec Center at 512-237-3282, ext. 7.
SAINT BERNARD - $500
Riverside Veterinary Hospital
The Rainbow Company
Marvin Garcia, MD
Keep Smithville Beautiful
Don & Vickie Green
Richard Latham - The Possibility of Public Art in Smithville
GREAT DANE - $300
Pocket's Grille
Nancy Catherman
LABRADOR - $200
Smithville Area Chamber of Commerce
franLan multimedia
John & Tiffany Rae Scallorn
COCKER SPANIEL - $100
Brian Riewe & Catherine Miller
MEMBERSHIPS - $25
Adena Lewis
Bob Parker
Nancy Catherman
Jackie Moree
Riverside Veterinary Hospital
Tiffany & John Scallorn
JoAnn Richerson