BASTROP COUNTY MLK DAY 2023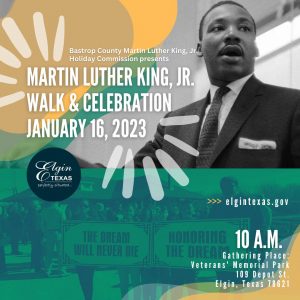 Downloadable MLK 2023_Program 
Monday,  January 16, 2023, at 10AM in ELGIN
Walk begins from Veterans Memorial Park 109 Depot Street to Booker T Washington Elementary school.  Program begins at 11am at BTW gymnasium, 510 Martin Luther King Boulevard.
Walk includes stop at the Elgin Black Icons mural. Parking available at Elgin chamber of commerce and Visitors Center 114 Central Avenue, Depot Museum 14 Depot Square and on street throughout downtown as well as the city hall and library complex at 310 N Main Street. Parking also available at Booker T Washington Elementary school and Thomas Memorial Park.
__________________________________________
Remember! Celebrate! Act!
The Bastrop County Martin Luther King, Jr. Holiday Commission was established in 1988. Founding members were: Hon. Dock Jackson (Bastrop), Hon. Gladys Ward (Elgin), and Hon. Clinton Wright (Smithville). The Walk for Peace, Justice, and Equality rotates between these communities each year so that everyone in Bastrop County can participate in celebrating Dr. King's dream together. It's a Day On, Not A Day Off! The Walk occurs every 3rd Monday in January to coincide with the national MLK, Jr. Holiday.
CLICK HERE FOR A LINK FOR THE AWARD-WINNING VIDEO FOR THE 30TH ANNUAL BASTROP COUNTY MLK WALK
__________________________________________
BASTROP COUNTY MLK DAY 2022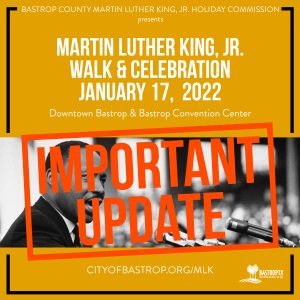 IMPORTANT UPDATE  >>  In an effort to insure community health and safety, the Martin Luther King, Jr. Holiday Commission has announced some changes to the MLK Walk & Celebration. The WALK will continue as planned, with masks and social distancing highly encouraged. It will begin at 10 AM at the Paul Quinn African Methodist Episcopal Church located at 1108 Walnut in Bastrop, TX. The CELEBRATION PROGRAM, featuring many inspiring speakers and talented entertainers will no longer take place in-person and will be conducted VIRTUALLY over the City of Bastrop Facebook page and via Zoom. Visit www.cityofbastrop.org/MLK for more information.
Facebook Live @ www.facebook.com/bastroptx
Zoom pre-registration link: https://us02web.zoom.us/webinar/register/WN_v6PmutKYTZK-cdd_5Dd7Lg
Please support our scholarship efforts for Bastrop County students:
DOWNLOAD MLKScholarshipForm2022_dec22
CLICK ON THE DROP DOWN LINKS BELOW FOR 2021 MLK EVENT CONTENT