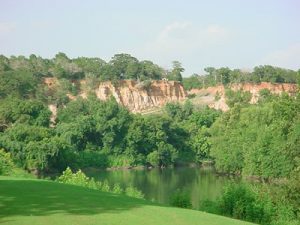 Smithville is in the middle of six golf courses within 25 miles – four 18 hole courses and 3 nine hole courses.  And we've got plenty of places to stay - look under Lodging.
The famous ColoVista Golf Course winds through the surrounding residential community amid majestic vistas, providing golfers with challenging terrain, subtle turns and treacherous optical illusions. The first nine holes are situated in the valley and gradually ascend to higher ground. The signature par-3, No. 15, features a 100-foot elevation change from tee to green, requiring golfers to be mindful of club selection. The view of the Colorado River from the raised tee box is jaw-dropping and starts a string of stunning finishing holes rivaling all others in Texas.
Pine Forest Golf Club is an 18-hole course lying along the Colorado River in Tahitian Village. Several tees are overlooked by the cliffs of the Colorado. Approximately 12 miles west of Smithville, take Tahitian down to Riverside Drive. For more information, call (512) 303-6777 or visit www.pineforestgolfclub.com.
Wolfdancer Golf Club, an 18 hole course about 25 miles west of Smithville, is owned and operated by the Hyatt Regency Lost Pines Resort. There is also a 13-acre driving range. For more information, call (512) 308-4770.
The nine hole golf courses are at Frish Auf Country Club in LaGrange to the east, Giddings Country Club in Giddings to the north and the Flatonia Golf Course in Flatonia to the south.