VIEW AVAILABLE COMMERCIAL PROPERTIES IN AND AROUND SMITHVILLE
DO BUSINESS IN SMITHVILLE!
Smithville offers beauty and recreation, a centralized location that's perfect for commerce of all types and a community atmosphere that invites you to visit for awhile.  From our easy access to the Colorado River to our rich railroad history, our eclectic, charming Main Street to our modern conveniences and lovely B&B's, Smithville invites visitors to come and relax.  Our central location, between Austin, San Antonio and Houston, makes doing business in Smithville an attractive, affordable option for your business.  Visit Smithville…a BIG small town experience!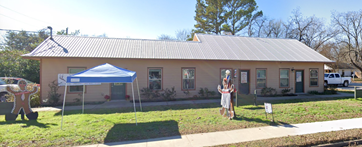 600 NE LOOP 230
A beautiful piece of property is conveniently located right in the middle of Smithville. It is 650 sq. ft. $700 per month. Unit A available.
So many possibilities. This level 13+ acres, just outside the city limits of Smithville, is ready for your new business. City utilities, Across from Smithville High School, Historical 3848 sf event venue-West End Park, baseball field, 1500 sf metal building, 864 sf storage building and still a lot more usable acreage. Several famous performers entertained at the venue which was once part of the Chitlin Circuit. Satchel Paige played at the baseball field. Owner is open to possible subdivision of property.
Very nice, easy to build, level lot with 157 feet of Highway 95 frontage. The property is zoned (CF) Community Facilities for the following uses: Medical Services, Cemetery, Accessory Buildings, Religious, Administration, Cultural, Public Safety, Educational, Public Relation, Service Maintenance and Transportation Facilities. Any possible zoning changes would need to be approved by the City of Smithville.
SMITHVILLE INDUSTRIAL PARK
The Smithville Industrial Business Park site is 69.108 acres conveniently located at the intersection of State Hwy 71 and State Hwy 95. It is approximately 25 miles north of Interstate Hwy 10 and approximately 40 miles SE of Interstate Hwy 35.
Great level Tract with great access to Hwy 71 and Smithville, less than a mile to the boat ramp to the Colorado River. Charming downtown Smithville is a short walk across the river bridge to dining and antique shopping.This tract adjoines a tract that is proposed commercial tract for $2.4 mil. Which would be a great neighbor for this tracts use as an RV/Tiny Home or mobile home park. Easy commute to Austin and Houston.
This a long-standing icon on the 71 corridor is a straight shot from the Austin airport to the expansive 15 acres just west of Smithville. Home to a mix of commercial spaces, easy accessibility to HWY 71. Space includes 20 foot roll-up cargo doors, two loading ramps and a high-capacity lift which could be made functional for your needs.
Great ware house with old bakery and bank on property bring offers owner is flexible 100- 16,000 sf avalible.
This half acre has great visibility and is located in the Opportunity Zone ~ ask realtor for more information on this ~ City Services are all available at this site and the adjoining 4.5 acres (MLS #4552502) is also available for a total of 5+ acres. Across the street from the new Nursing Home, Hospital, Pharmacy, Hotel and shopping complex ~ Ideal location !
This property is being sold AS-IS at a fire sale price below tax appraised value - 6.65 acres, 1 office, 2 fully functional model homes, main residence on hill. MASSIVE 6100+ Sq Ft shop with separate garage/office/kitchen/full bath and huge drive thru bay doors - live and work on property. Developers dream - RV Park, B&B, wedding venue, commercial trades, Storage Facility, you name it! NO ZONING - have buyers for model homes if wish to sell after property purchase - potential to make back up to $150K
This tract is located in the Opportunity zone of Bastrop County and would a great investment property. Reinvest your capital gains~ 4.5360 acres between Hwy 71 E and Hill Rd. Ideal location for apartments, retail, or convenience store with easy access off and on Hwy 71. Level land currently used for agricultural purpose. The owners recently had an appraisal done and 2.10 a sq ft or 417,000 is the appraised price.