For the convenience of our visitors and our locals, Smithville boasts numerous free wireless access locations, known as Hot Spots, around Smithville for those who bring their laptop computers or have wireless capable cell phones. Signs are posted in wireless access areas.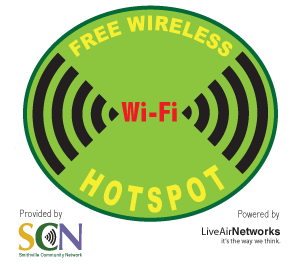 Currently, hot spots are located at:
Restaurants: Pocket's Grille, Comfort Cafe, Subway.
Smithville Municipal Airport  Pilot's Lounge at the airport.
Smithville Recreation Center, Hwy 95 at 1st Street, 106 Gazley.
Outside at the Gazebo at First and Main Street (midpoint is at the Chamber office.)
Also, if you didn't bring your laptop, you can always head to one of the locations around town which have computers ready and waiting for your use. We call these locations our "Cool Spots!" also marked.
The Smithville Public Library, 605 Main St., also has computers for use with a Smithville Public Library card, and does computer skills training.