BASTROP COUNTY MLK DAY 2021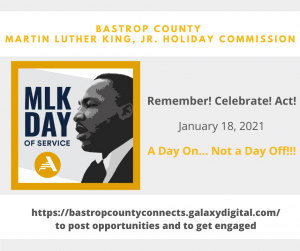 The City of Smithville is honored to again host the 32nd Annual Bastrop County Martin Luther King, Jr. Holiday Commission Celebration in Bastrop County. This program rotates between the Cities of Bastrop, Elgin, and Smithville each year. It represents a very solemn and dedicated commitment between all members of Bastrop County in coming together to celebrate and honor Martin Luther King, Jr and his legacy.
This year's Celebration takes place under extraordinary circumstances. We are not able to safely gather to walk together, and we are safer and stronger when we celebrate apart.
Join the community via Facebook: MLK Facebook Event
Walk for MLK:  Post a photo using #BastropCountyMLKDay